Published on: Jun 10, 2023
---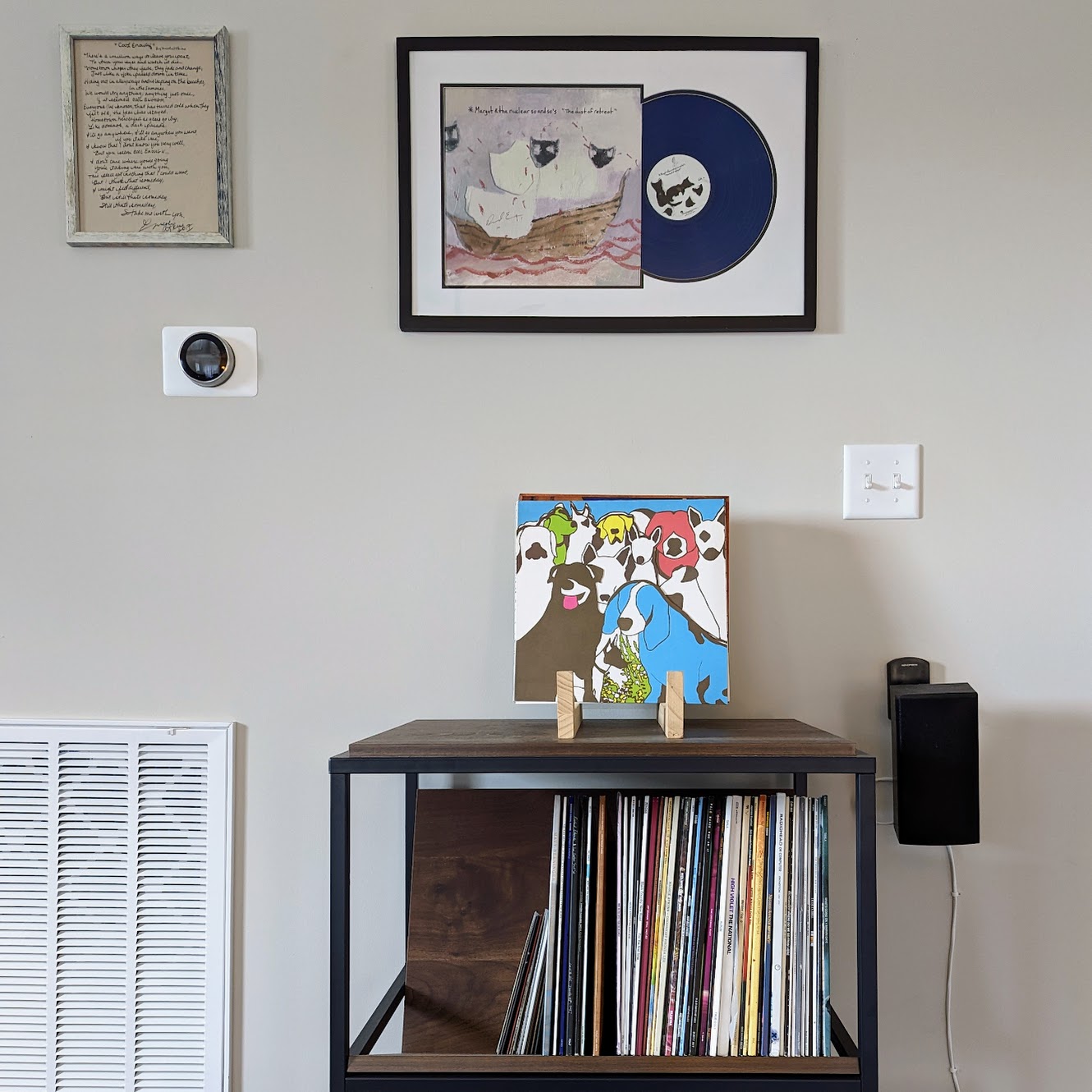 It was probably an innocent question, asked over wine and records. And in the moment, that moment, I stumbled through my rote answer – an answer I'm sure is not too dissimilar form others who collect records in the age of constant streaming music from a collection far larger than a human can consume in a single lifetime.

I don't fetishize vinyl in a way that so many self-describe audiophiles do. I don't ascribe some supernatural sound quality to the physical object. I don't worship the analogue. I don't care if the master was digital. Instead, in my response I stuck to my three reasons, my standard trinity:

"I've always liked the album as an artist medium, to the point where I self describe as an albumist."
"I enjoy the physical act of selecting, staging, and then sitting with a choice."
"It's nice to break away from the algorithms."

That's where I stopped. That's where I always stop. It's a practiced response. It's a soundbite.

It's also happens to be true.

But it's not a full and honest answer.

I've heard the, perhaps apocryphal, notion that scents will evoke memories long gone, dragging up from the depths things that our other senses can't quite get to. I suppose it had has something to do with maternal bonding in babies, an evolutionary development to form families. But since I was a child, I've used music as a paging system to reference back to things. Short cuts to memories.

Sometimes, music serves as a direct trigger. This album to that time. That song to that place.

Hearing Okkervill River's 'Singer Songwriter' [1] always reminds me of the film Five Easy Pieces, specifically watching the film on a Netflix DVD on a shitty Gateway computer when I was at the Academy. That song always takes me back there, right back to the uniform despite the record being released five and a half years after I resigned my appointment.

Not all records do that and playing a record doesn't always provide a vivid flashback, but it does evoke that sort of memory that's more felt than remembered. An experience that can get complicated, as revisiting an album over years or decades can cause the meaning to morph and evolve along with my life. Memories and relationships do have a way of doing that.

I assume the folks who remember through scent have similar experiences. Though I suppose their shelves are less full.

Streaming could certainly provide the same narrative reference – what my friends and I used to call our audiobiographia – but the act of physical collection turns that self-told narrative into a totemic experience. I know my collection isn't me, but it is a version of me.

My record collection is the definition of personal, to the point of burgeoning on post-structural, each record attached with meaning wholly divorced from authorial intent. My collection means something correct and intimate to me and can be interpreted by someone else with equal correctness, yet with a completely different history.

Even the stack of recently played records that forms on top of one of my record cabinets creates a story. Thumbing through the covers tells a reverse chronological tale of where I have been lately, what I've been feeling or wanting to feel or remember.

Yes, the creation of such collections carries with it an act of editing. I, in my 40s, am creating the oblique and physical history that I want to represent myself in my 40s. It's curation. There's parts that make it, parts that don't, and parts that are added because when reviewing the story with the gift of hindsight, the holes are glaring and I am rectifying that now.

That makes my audiobiographia true more in the way of poetry or fiction and less than journalistic. But I don't see that detracting from the value, and since it's my collection, I think I'm okay with that. Memoirs are only half true at best.

In the age of streaming music – for which I am a subscriber and a user – collecting physical media is a small act of rebellion. It's a declaration that art, once released, exists fractured and nestled amongst the minds and hearts of the audience. That existence can't be undone through license negotiations or cessation of rights. Once the record is in hand, only the listeners life can render it unlistenable. Not the damn lawyers.

There's probably something in there, about taking care of records that serve as a key to the past, lest the memory be scratched and lost. I should explore that metaphor later.

The loss of streaming rights is more common movies and tv shows, but for the truly important records, the albums that carry meaning well beyond the music, those are the ones that are worth keeping. That are worth lugging from apartment to apartment to home.

It's not complete. There's entire swaths of my past unrepresented, and hopefully half a future not yet there. But it's something that I enjoy.
So, that's why.

--

After thought

I feel like I should point out that I was listening to The National's 'Trouble Will Find Me' - while writing this. That's a record that I've only recently started exploring as an album, though I instantly felt an empathetic relationship to Pink Rabbits [2]. And, perhaps ironically, the purchase of this record did inspire me to start discograph.ai, my record collection tracking AI project which I really do need to get back to work on.